Rodrigo Duterte is the current and the sixteenth President of the Philippines, in office since June 2016. Born in into a politically active family, he spent most of his life in Davao City. Subsequently, he became the Mayor of Davao and served for seven terms, totaling more than 22 years from 1988-2010. In 2016, he won a huge mandate and became the President of Philippines. His success lies in his ability to connect to the masses.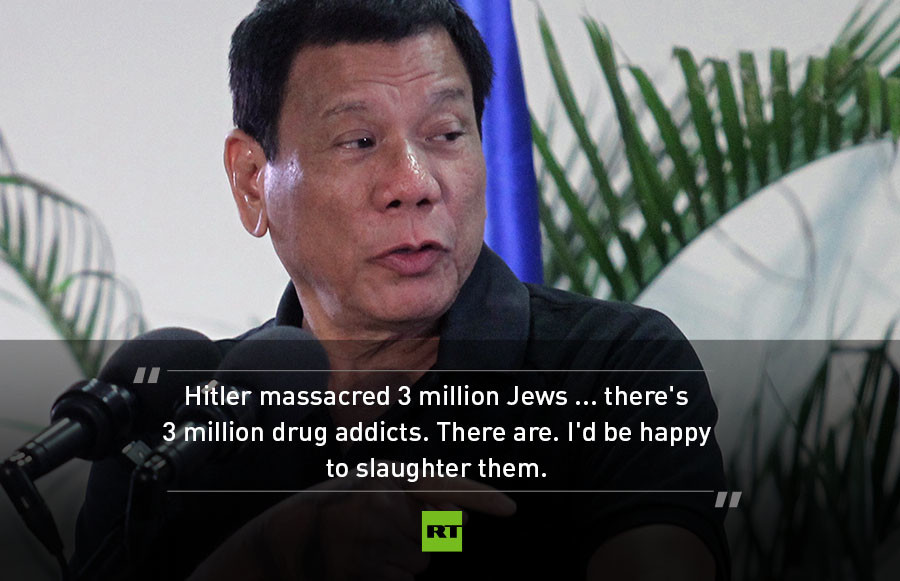 He's compared himself to Hitler. He's vowed to wage a war on drugs via execution. He's threatened to cut all ties with the U.S. He swears like a sailor and has been nicknamed "The Punisher." Here are 6 facts you need to know about Rodrigo Duterte.
Brief Background
Timeline:
1977-1986 – City prosecutor of Davao City

1988-2010 – Mayor of Davao City

June 2016-Present – President of the Philippines

As mayor of Davao City, a metropolis of 1.5 million people towards southern Philippine islands, Duterte first made his name nationally for his no-nonsense approach to crime. He advocates a hardline approach to criminals and claims to have drastically reduced Davao's previously high rates of violent crime. But along with this reputation came allegations that he was connected to extrajudicial killings earning him the moniker "The Punisher" by Time Magazine in 2002.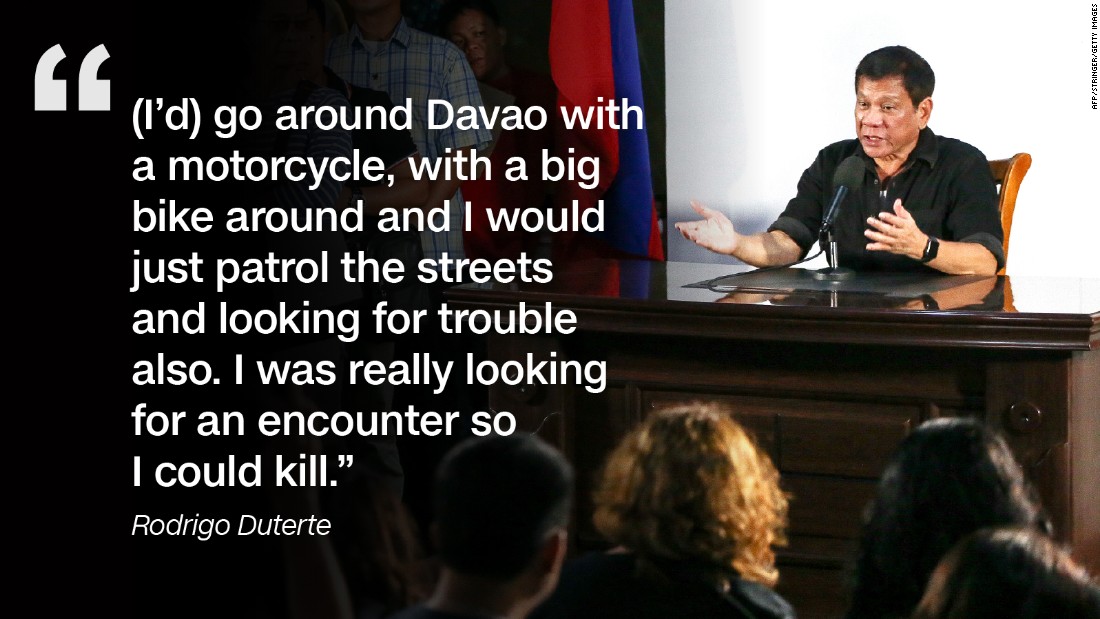 Fact #1: Duterte's Death Squads
The group is allegedly responsible for executions of individuals suspected of petty crimes and drug dealings in Davao. It has been estimated that the group is responsible for the killing or disappearance of at least between 1,020 and 1,040 people between 1998 and 2008, but possibly more. The standard tactics of the killers was to arrive in small groups of two or three on unlicensed motorbikes. Victims would be stabbed or shot without warning during daytime in public areas and in the presence of numerous witnesses. "Me? They are saying that I'm part of a death squad? True, that's true," he said in 2015 in a mix of English before threatening to kill thousands more criminals and dump them into Manila Bay if he was elected president of the Philippines.
Fact #2: The Senator who Criticized Duterte
When a longtime Duterte critic, Senator Leila de Lima, opened a Senate investigation on extrajudicial killing, he publicly urged her to resign and hang herself. "If I were De Lima, ladies and gentlemen, I would hang myself," Duterte said. When she presented a witness who claimed that he killed for Duterte previously, once feeding a man to a crocodile, she was ousted from her role in the Senate. Duterte has since slandered the senator by accusing her of taking bribes from drug dealers and sleeping with her driver. Her personal number and address were broadcast on national television, leading to death threats. "She was not only screwing her driver, she was screwing the nation," the president joked. "The truth is, I'm not safe," De Lima said.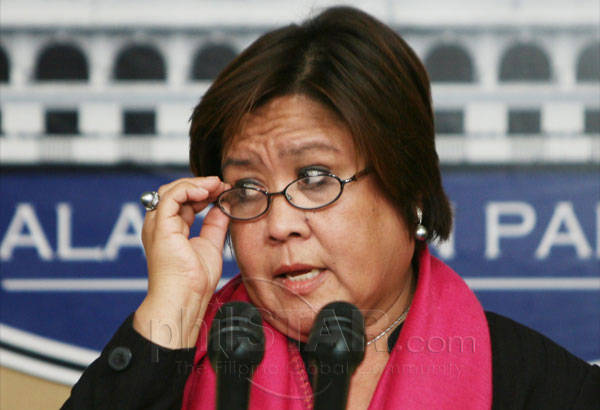 Fact #3: Duterte Jokes about Rape
Duterte came under fire for jokes during a campaign rally in April 2016 about a 1989 prison riot in the city of Davao, where he was mayor at the time, that led to the rape and murder of a female missionary.
"All the women were raped so during the first assault, because they retreated, the bodies they used as a cover, one of them was the corpse of the Australian woman layminister. Tsk, this is a problem. When the bodies were brought out, they were wrapped. I looked at her face, son of a bitch, she looks like a beautiful American actress. Son of a bitch, what a waste. What came to mind was, they raped her, they lined up. I was angry because she was raped, that's one thing. But she was so beautiful, the mayor should have been first. What a waste."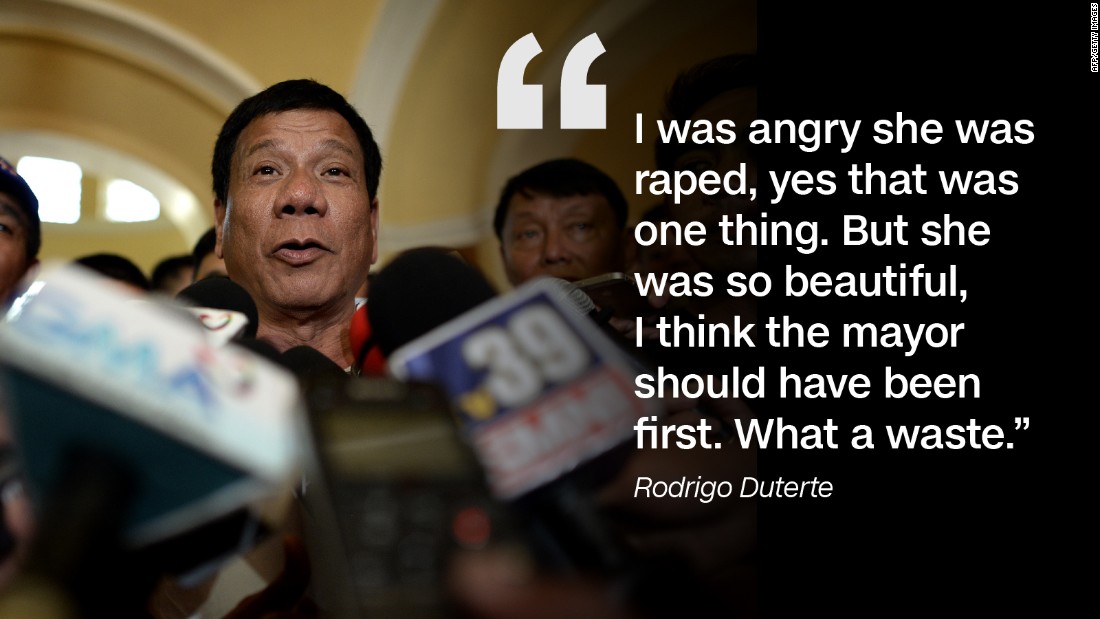 Fact #4: Duterte's Drug Killings Since Taking Office
Duterte's controversial drug war: 6 months, 6,000 deaths in the Philippines More than 2,000 were killed in police operations, and the other 4,000 died in vigilante or extrajudicial killings. "Please feel free to call us, the police, or do it yourself if you have a gun … you have my support," he told the crowd and television cameras. "Shoot him [the drug dealer] and I'll give you a medal."
Fact #5: Trump's Stance on Duterte
Duterte claims that Trump endorsed his campaign against drug users and dealers. Trump told Duterte that he was doing it the 'right way,' according to Duterte's account. Trump invited Duterte to the White House, according to a Philippines official.
In a speech that lasted over an hour to the Filipino community in Myanmar, Philippines President Rodrigo Duterte vowed to "give all" to support President Donald Trump and berated the European Union for opposing his use of extrajudicial killing, asking, "why do you have to fuck with us?"
Fact #6: Duterte is a Drug Abuser
In a twist of irony, Philippine President Rodrigo Duterte, the man behind the ongoing crackdown on the country's drug criminals, is being urged to prove his fitness for office after he admitted to abusing an addictive painkiller.
Duterte is a regular user of the opioid fentanyl. "I'm not an addict," he said. "Only when it is prescribed. Addiction is only with regularity, my friend. He has claimed the drug has taken him to paradise.