Five Apps Made Food Delivery Simple
No matter if you're home, at work, or hanging with friends you can order food to your exact location. Technology in this era has made life easier in many ways. One of the biggest changes is how easy it is to get food delivered to you. This listicle will discuss five major players in the food delivery industry; UberEats, Grubhub, Blue Apron, Amazon Prime Pantry and HelloFresh. You will see how easy it is to get a great meal without having to step out your door.
Uber Eats:
(Found at flickrcc.net)
Uber Eats is a service offered by Uber that allows people to order food and have it delivered to their exact location. Uber offers select restaurants to choose from and gives the menu to look over before you order. The app finds your location and gives local restaurants to choose from. For example Harry Buffalo, most pizza joints, or if you're feeling breakfast or desserts, Uber Eats provides you with all your needs. This app gives you the price of the food and includes the tip to the driver. The price ranges from $6-$15, depending on what and how much you get. This app also gives the car the person is driving, along with their location and how long it will take. Uber Eats charges an up charge of $5 for services and tip. Everything is paid for on the app when you purchase your meal. (http://www.cleveland.com/entertainment/index.ssf/2016/09/ubereats_food_delivery_service.html)
https://www.ubereats.com/cleveland/
Grub Hub:
Grub Hub offers an app or online service.  You put your location in and it gives all the places you can choose to order food. For example they have the more popular restaurants but not many fast food joints. The price is really reasonable with a great selection of food. They have people on their website talking about how easy it is to order food and how much they like the service. All food is paid on the app or online when you choose the food. Grub Hub delivers to your location and fast as they can and gives an estimated arrival time. They hire trusted food couriers so you know you can rely on your delivery on schedule and in correct form.
Blue Apron:
Blue Apron is changing the shopping game. Blue Apron offers to buy your food and ingredients for a specific meal of your choosing.  They send recipes with pre measured ingredients so that you can get right to cooking. Blue Apron also sends a recipe step-by-step guide card so you know exactly how to prepare the meal. Meal sizes can range from as little to as big as needed. The price can range from $10-$100 on average depending on how much you want to cook. The average dinner will cost about $20. If you want more ingredients the cost will go up. You want to just give Blue Apron a shot they do offer meals for as cheap as $10 for new users. This service is for people who enjoy cooking at home; making meals from raw ingredients, yet want to skip the step of going to several stores to track down the ingredients.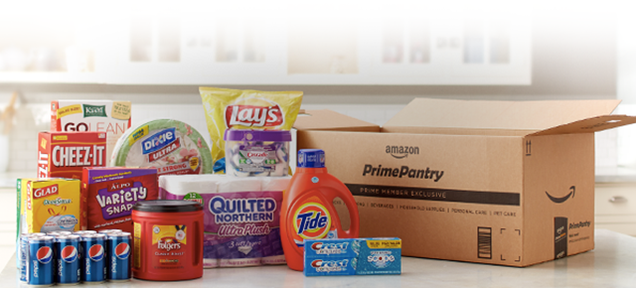 Amazon Prime Pantry:
(www.freestufffinder.com)
With Amazon Prime Pantry, groceries and all household needs can now be purchased and shipped in one convenient package. You can choose anything from snacks, foods, drinks and other appliances. This offer is very convenient and allows you to fill the pantry with one purchase and one big package. This beats running around to many different stores trying to find the best deals and spending a lot of time. The price is pretty reasonable based on the fact that you can get all your goods at one time. If you want to spend as little money as possible, this isn't the way to go, but if you want to spend as little as time on shopping this is gold. Amazon sends the package right to your doorstep in a couple of days. If a pantry box is filled with at least 5 items, the shipping is free.
https://www.amazon.com/Prime-Pantry/b?ie=UTF8&node=7301146011
HelloFresh:
This is a website that allows you to cook any meal that looks appetizing. You look through meals and pick one you like and HelloFresh will send you the directions and recipe. The price ranges from $10-$100 depending on the meal and size. The ingredients are fresh and will be easy to cook with. You can cook anything from meats to fish, HelloFresh has it all. They send step by step directions so that even a beginner can cook a great meal. The package comes with pre measured amounts and makes sure you are ready to get to cooking. Everything gets sent to your door and you don't have to shop around. This website does everything for you, all you have to do is buy the package with the goods and start cooking.
https://www.hellofresh.com/tasty/
References
"Michael Schwartz Library." Patron Authentication – Michael Schwartz Library, CSU. BLUE APRON, 05 Nov. 2016. Web. 29 Jan. 2017.
"Michael Schwartz Library." Patron Authentication – Michael Schwartz Library, CSU. Food Delivery, 13 Oct. 2016. Web. 29 Jan. 2017.
"Michael Schwartz Library." Patron Authentication – Michael Schwartz Library, CSU. N.p., 09 Aug. 2014. Web. 29 Jan. 2017.
"Michael Schwartz Library." Patron Authentication – Michael Schwartz Library, CSU. N.p., 7 Oct. 2016. Web. 29 Jan. 2017.