As of the second quarter of 2016, Twitter reports that there are approximately 313 million active monthly Twitter users, meaning that Twitter can reach a wide audience and be an effective tool for a small business. Twitter conducted a study in 2016 of over 5450 people who follow SMB's (Small or Medium-Sized Business) on their website. They found 29.9% saw SMB tweets every time they checked their feed, which means that marketing and advertising were effective enough that users took notice quite frequently. Often times for small businesses, expanding their consumer base and getting noticed can be the one of the most difficult parts of starting up a new business. Twitter offers various ways that can help put a business on the map and result in increased traffic and recognition. On most occasions (83%), people will even feel better about the business after interacting with them on Twitter, which leads to a better reputation and subsequently more business. If you follow these steps, your small business could become internet famous too!
1. Follow the Leader(s)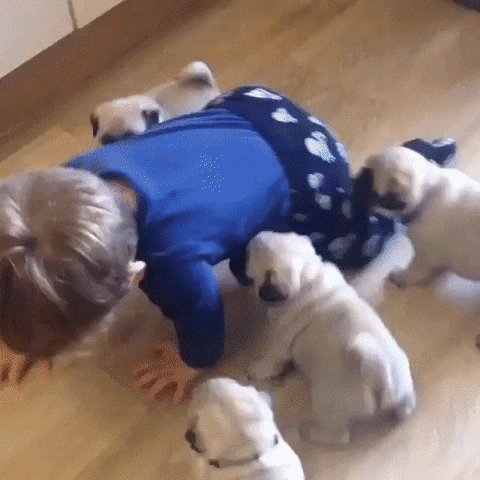 Puppies GIF
Follow key industry influences and engage with them. (e.g. Key Bank is a great follow if you own a small bank)
Attract social media figures with large follower bases (this allows for free mass promotion)
Interact with competitors; collaborate OR explain what makes you unique (or better)
Analyze the ratio of Fun to Business Tweets, image Tweets, and polls that large companies use on Twitter to maintain a healthy medium
2. Cross-Promote Your Other Social Media Outlets
Social Media GIF
Maintain brand consistency and name recognition (To use the same usernames and profile pictures if possible)
Twitter isn't always for everybody or for everyday (Only 56.7% of the people from the Twitter Customer Insights Survey that was mentioned earlier, used Twitter daily)
Consider worldwide availability
Connect with your Facebook, YouTube, and Instagram accounts, etc.
Polls, Questions, and Deals should also be mentioned on your other social media platforms as well as sent out to any email subscribers.
3. Reach Out to Your Own Community
Dance Scene from Drew Carey Show filmed in Cleveland
Find out what is important in your community and stay engaged (A great example of this is GVArtwork in Cleveland, OH)
Promote your city in a positive light and be respectful of outsiders
Use geographical Hashtags
Offer Twitter-Exclusive deals which increase foot traffic (e.g. Use code: TWITTER at checkout to save 20% on final purchase)
4. Remain Relevant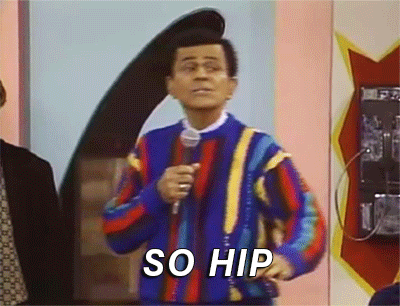 "Saved By The Bell" GIF
Follow what's trending and get creative
Use relevant and popular Hashtags
Try to retain and entertain your audience by Tweeting out once a day (be careful not to overwhelm)
Appeal to your target audience while also touching different age groups
Feel free to look at larger companies for inspiration
5. Take Advantage of Twitter's Business tools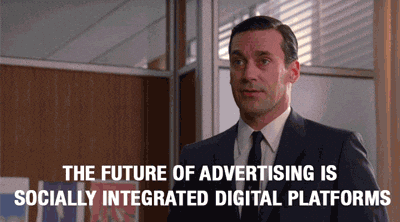 Scene from AMC's: "Mad Men"
Follower Campaigns (Advertising on a Cost Per Click basis):
Advertise a Website Card to display images, link a web address, and provide a clear call to action
Advertise an App Card to preview images, view app ratings, open app from timeline
Promote Compelling Tweet Engagements
Quick Promote specific Tweets to help bring awareness to events, large notices, important messages
---
Twitter undeniably has the tools and accessibility necessary to help promote small businesses on a massive, international stage. While the 5 ways above aren't the only ways to go about marketing a company online, they provide easy-to-understand guidelines and information that pertain specifically to expanding the consumer base of a business. Success is never guaranteed. It's usually never obtained overnight either, but everyone has to start somewhere!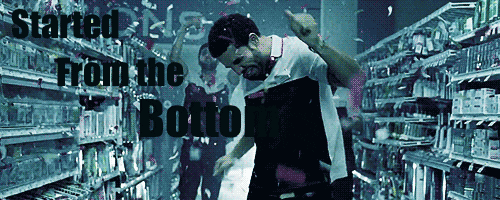 Scene from Drake's: "Started From The Bottom" music video
Sources: listicle-bibliography
Ray Sales Company picture: https://flic.kr/p/23ZMEV
Drake GIF: http://gph.is/1sEQ4yL